Camping
We are happy to welcome you all back for 2021! Please note though that we are only taking bookings in adavnce this year so please do not travel without one. To check availability please use the calendar below. Covid-19 guidelines will be sent out prior to your arrival - your safety and enjoyment remain our top priorities!

We're a small, friendly and quiet site located a very short walk to the shores of Little Loch Broom, with 12 grass pitches which have vehicular access. We are very dog-welcoming - we only ask that dogs are well-behaved and cleaned up after, and that owners are wary of livestock in the surrounding area. All vehicles must be under 6-metres in length and caravans towed by 4-wheel drive vehicles due to site access. We have very limited space for caravans. We have 4 electric hook up points - please book or phone ahead for EHU availability.
Although there is no reception on site, the campsite attendant will be around at various points in the day. There is an honesty box system still used for the occasional times the attendant is unavailable and cash payment is needed. It is recommended that bookings are made online by using the availability calendar further down the page to guarantee your spot, especially for EHU and during the summer months. Upon arrival at the site please take a pitch suitable for your vehicle and tent if not directed by the attendant.
All facilities are bright, unique and well-maintained and made from high quality local materials. There are two wonderful showers, male and female toilets and a disabled toilet. They are shared with the bothy which can be used as a social/eating area and games room when not booked on a sole use (private hire) basis, allowing a welcome retreat from the sun or rain. Parking is next to your tent pitch which is surrounded by an abundance of wild flowers and wild food plants. Red deer and many magnificent birds of prey often visit close to the site too! There are no hardstandings or grey/black water emptying facilities as the site is set up mostly for small vans and for tents.
The water on site is coloured by peat from the hill. It's often a fairly unappealing brown-yellow colour but it is perfectly drinkable as it is filtered and then sterilised before getting to the taps. It's fresh from the hills! In times of dought conditions and high volumes of guests on the site the water supply can get very low or temporarily run out - it usually takes a combination of the two mentioned factors, but it's worth knowing. In the winter time it can also freeze.
Though rarely a problem here due to coastal breeze please be aware of midges during June through to mid-September. We recommend that you get yourself some repellant if you go camping in Scotland at all!
The booking calendar is provided by Cool Camping, where where you can find even more information and reviews of our campsite.
We are proud to display the recommendations and the logos of the website providers and marketers we work with below!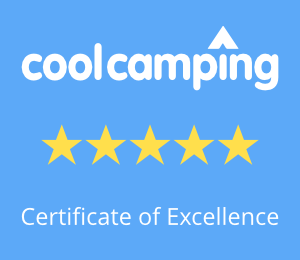 Reviews for Badrallach Campsite:
"We have been camping for 25 years now but we never found such artistic and cosy services as here. We were very glad to find this place"
"Camped in Europe and elsewhere but this beats the best!!!"
"Facilities brilliant, best showers in Scotland.Excellent facilities that reflect the generous thoughts of the owners"